October is National Domestic Violence Awareness Month.  The Mayor is commemorating this month with the following activities:
Text to Donate:
Verizon Wireless and the Los Angeles Police Foundation have launched "Text to Donate" program, where people, regardless of wireless provider, can text LAPF5 to 20222 to donate $5, or LAPF10 to donate $10.  Proceeds benefit programs of the Los Angeles Police Department's domestic violence prevention and intervention programs.  One of the main programs to benefit from donations is the City's Domestic Abuse Response Team or DART.
A one-time donation of $5.00 or $10.00 will be added to your mobile phone bill or deducted from your prepaid balance. Donor must be age 18+ and all donations must be authorized by the account holder (e.g. parents). By texting YES, the user agrees to the terms and conditions. All charges are billed by and payable to your mobile service provider. Service is available on most carriers. Donations are collected for the benefit of the Los Angeles Police Foundation by the Mobile Giving Foundation and subject to the terms found at www.hmgf.org/t. Message & Data Rates May Apply. You can unsubscribe at any time by texting STOP to short code 20222; text HELP to 20222 for help. Privacy Policy: http://lapolicefoundation.org/privacy.html
Spreading the Word:
Through the month of October, CBS Outdoor, Clear Channel Outdoor, and Lamar Advertising, provided print and digital public service announcements on hundreds of billboards throughout Los Angeles highlighting the importance of Domestic Violence Awareness Month.  Billboards showcased 24 hour hotline numbers, the Mayor's DV Resources website, www.SafeLA.org, and advertise the Text to Donate campaign.  Clear Channel also donated radio space to the SAFELA message on many of its stations.
Mann's Chinese Theater, AEG (L.A. Live and Staples Center), the Coliseum and Convention Center posted information about the campaign on their marquees; in addition, Transit TV aired a video PSA on metro buses and advertised the Text to Donate campaign on thousands of buses during the second week of October, thanks to the sponsorship of Verizon.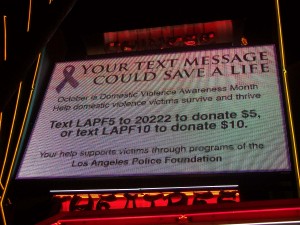 The Department of Water and Power (DWP) shared information about Domestic Violence (DV) Awareness Month and DV resources in their September/October billing envelopes.
Turning LA Purple
With the help of our SAFELA and community partners, the Mayor was able to "Turn LA Puple" with lights at LA Live, Staples Center, Capitol Records Building and LAX throughout the month of October.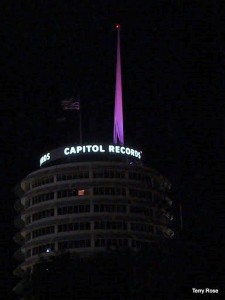 Capitol Records Spire in Hollywood goes purple for Domestic Violence Awareness Month
Hopeline:
Verizon Wireless and the City of Los Angeles are conducting a HopeLine phone and accessory recycling drive benefiting survivors of domestic violence.  Since 2001, HopeLine has awarded more than $10 million in cash grants to domestic violence agencies and organizations throughout the country and has distributed more than 106,000 phones with more than 319 million minutes of free wireless service to victims, giving them a "lifeline" to valuable resources. In 2010 alone, the City collected 100 cell phones, 100 chargers and 30 batteries for the HopeLine program. Phones will be collected at locations throughout the City of Los Angeles through Thanksgiving.
About Hopeline® from Verizon
http://aboutus.vzw.com/communityservice/Phone_Program.html

Journey of Hope:
Thanks to the partnership of Verizon Wireless and Oasis Events, the Mayor was able to commemorate Domestic Violence Awareness Month and SAFELA's continued effort at a press conference with LAPD and representatives from state and local DV agencies.  This event included a screening of Verizon's "Telling Amy's Story" documentary, as well as a visit from the Journey of Hope Bus, where the Mayor recorded the story of his experience with domestic violence as a young child.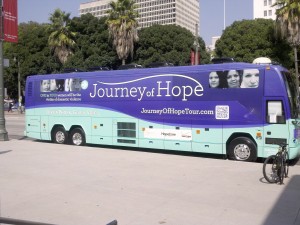 A copy of the press release for all the activities this month can be found here: Press Release